Bioskin Junior Daily Face Moisturiser
Regular price

Sale price

£13.99
The Bioskin Junior Face Moisturiser is a gentle daily moisturiser, delicately developed for dry and sensitive facial skin. 
Packed with anti-inflammatory ingredients such as Aloe Vera, Shea Butter and Calendula to relieve and soothe irritated skin. 

What makes the Bioskin Junior Face Moisturiser unique?

Instantly relieves symptoms of dry, itchy, and irritated facial skin. 
Rich in Omegas 6, 7 & 9  to promote hydrated and nourished skin.
Free from parabens, paraffin, synthetic fragrance, microplastics & nanoparticles.
Its fast-absorbing lightweight formula allows for easy and fuss-free application
Binds moisture to the skin & supports a healthy skin microbiome.
Our Bioskin Junior Face Moisturiser has anti-bacterial properties and is suitable for babies and children prone to eczema, dermatitis, teething rash, and other skin allergies.

How it works

Packed with anti-bacterial properties, minerals, vitamins A and E, this gentle yet effective moisturizer promotes healthy skin. It is enriched with antioxidants derived from shea butter and olive oil, which not only lock in moisture but also leave the skin feeling soft and smooth.

To support the skin's barrier function and encourage healing, we've packed aloe vera, calendula, and turmeric in our Daily Face Moisturizer. These anti-inflammatory ingredients are well known for their healing properties and their ability to soothe and relieve irritated skin. Konjac, used in our Daily Face Moisturizer, provides all-day protection against daily environmental pollutants while keeping your child's skin hydrated and healthy.


How to use

1. Use as part of the morning and evening skincare routine, or more often if required.

2. Reduce the application frequency as the symptoms subside.

3. Suitable for applying to the face, but be careful around the eyes and other sensitive areas. A tingling sensation may be experienced at first but this should subside quickly - it means the product is working!

For severe cases of dry, eczema- and allergy-prone skin, we recommend using this product in conjunction with our Bioskin Junior Outbreak Rescue Cream. Apply the Outbreak Rescue Cream to the most affected areas shortly after the Daily Face Moisturiser has sunk into the skin.
Ingredients

Aqua, Glycerin, Glycerin Stearate SE, Olea Europaea Fruit Oil (Olive Oil), Butyrospermum Parkii Butter (Shea Butter), Dicaprylyl Carbonate, Cetearyl Alcohol, Cetearyl Glucoside, Sodium Benzoate, Xanthan Gum, Lactic Acid, Potassium Sorbate, Amorphophallus Konjac Root Extract (Konjac Root), Carrageenan, Glucose, Potassium Chloride, Aloe Barbadensis Leaf Juice Powder (Aloe Vera), Calendula Officinalis Flower Extract (Calendula), Curcuma Xanthorrhiza Root Powder (Turmeric)
Share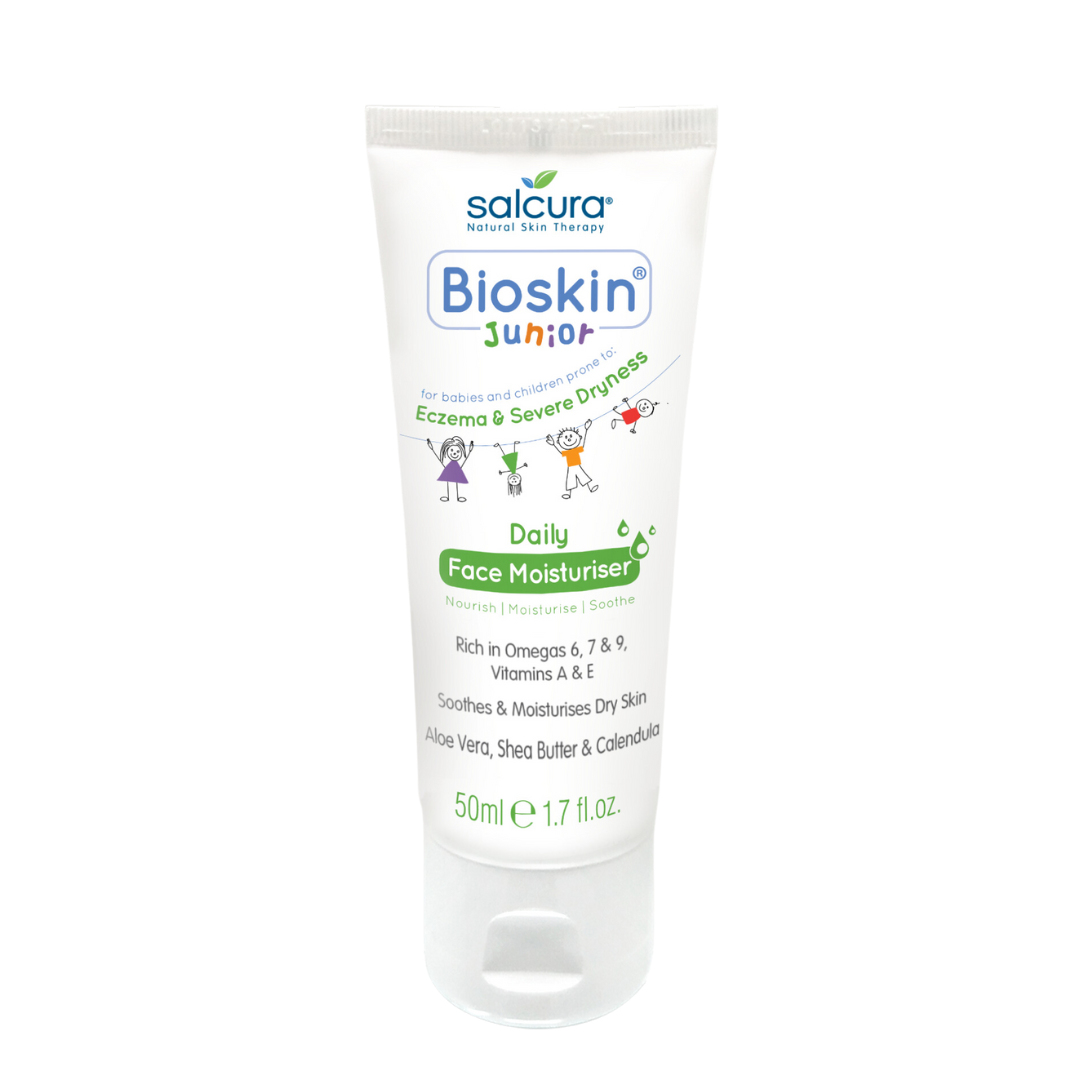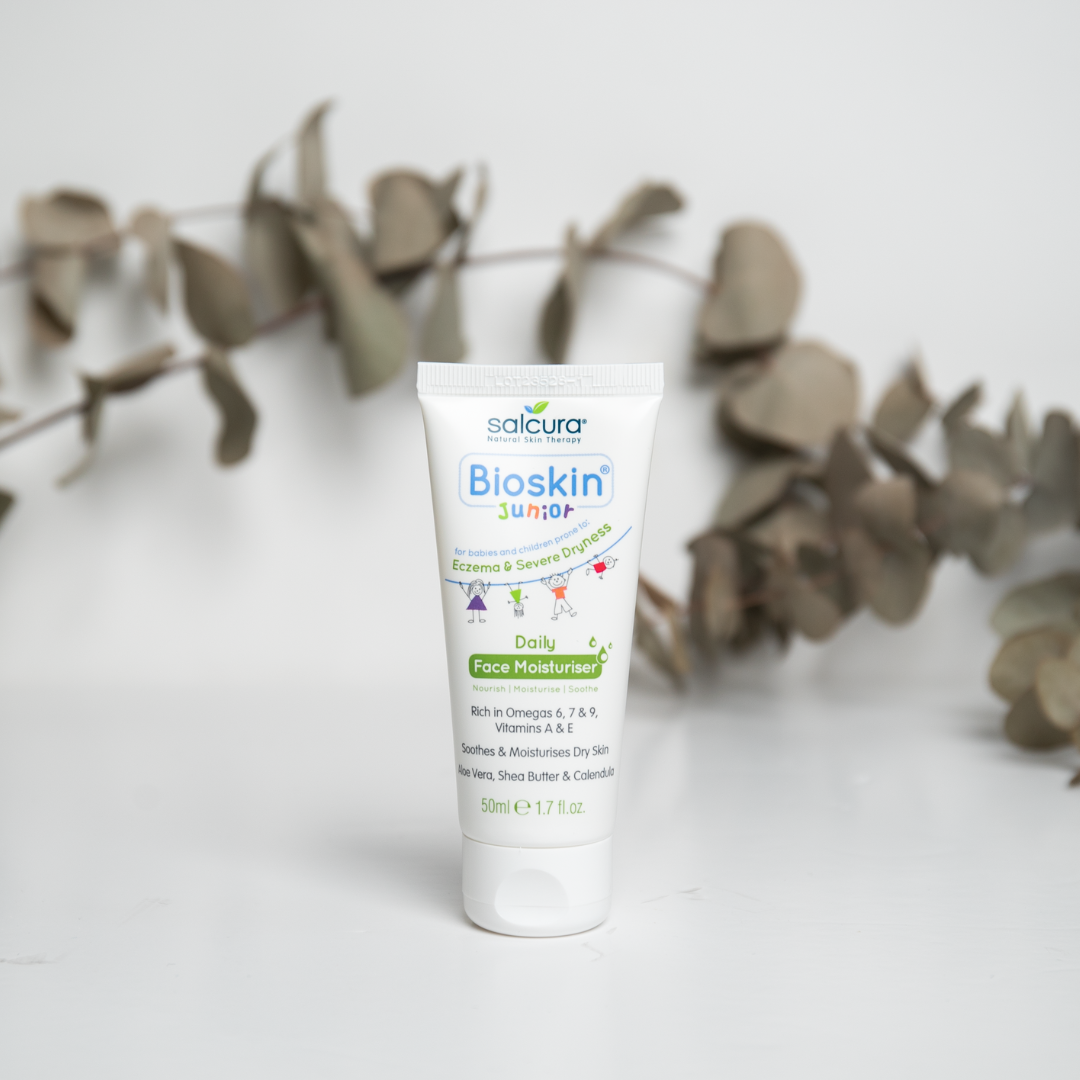 FAQs
From what age can Bioskin Junior be used?

We recommend using Bioskin Junior from around 3 months old. The products are safe to use before that time, but we just want to be extra safe with your little one's sensitive skin and as the products are designed to really activate the skin, the oils might be a bit stingy – particularly in the Rescue Cream.

Please note that if you need to use the products on your baby, it should be absolutely fine – many people do. Just patch test to be sure the cream and/ or spray do not sting.
Will the products sting my child's skin?

Your child may experience a tingling or cool sensation shortly after application, but it should only last for a few moments. This is nothing to be concerned about, it just shows that the product is working. We also advise you to do a patch test as a child's skin can be sensitive.
How long will it take before I see results?

Every skin is different so we can never answer that question with a full guarantee. However, with a child's skin often still being quite resilient, some customers see improvement overnight. Don't worry if not though, the skin can take much longer to recuperate!
Are your products vegan friendly?

Yes, all our products are vegan-friendly and cruelty-free.