Topida Intimate Hygiene Duo Pack
Regular price

£27.98

Sale price

£20.99
Try our best-selling and award-winning Topida Intimate Hygiene Spray and Wash and save 25%. 

Our Topida range aims to help you get a healthier and more balanced intimate area. Soothes and cools the intimate area that may be affected by dryness, itchiness, thrush or other vaginal discomforts by creating a healthy microbial balance in the affected areas. 

Save 25% with our Topida Intimate Hygiene Duo Pack containing:
 1 x Topida Intimate Hygiene Spray - 50ml (RRP £12.99)
Topida has been specifically formulated to soothe, cool and calm by creating a healthy microbial balance on the affected areas. This effective, quick-acting solution balances the pH levels and essential nutrients to help maintain skin cells in a viable and healthy condition.
 1 x Topida Intimate Hygiene Wash - 200ml (RRP £14.99)
Topida Intimate Hygiene Wash gently cleanses the intimate area, without removing natural oils or moisture from the skin. It instantly provides fast relief from discomfort and itchiness.
How it works

Contains over 12 star ingredients and essential oils including tea tree, safflower, olive, sea buckthorn, rosehip and thyme to relive, cool, soothe, nourish and moisturise sensitive intimate skin. The rich combination of oils and extracts feeds the skin the healthy nutrients it needs to become healthier and less prone to imbalances.

Anti-bacterial essential oils help to restore your natural pH balance. Lactic acid supports the healthy pH balance for the intimate skin, whilst vitamin E contains skin soothing anti-oxidant properties.

Our gentle wash is kind to your vulva as it contains no harsh chemicals, synthetic perfume or other commonly known skin irritants. It effectively maintains a naturally acidic vaginal environment by maintaining the correct pH value. This allows your intimate area to create a barrier from infection by preventing unhealthy bacteria and yeast from building too quickly.
How to use

1. Topida Intimate Hygiene Wash is for external use only in the intimate female area. Apply a coin-size amount to damp skin and gently cleanse by hand or with a clean flannel.

2. Apply our Topida Intimate Hygiene Spray at least 1-2 times a day initially onto the affected areas. Allow the liquid to sink in.

When the symptoms have subsided, make sure to continue using Topida regularly to keep topping up the skin with healthy nutrients.
Ingredients

Topida Intimate Hygiene Spray:
Aqua (Water), Melaleuca Alternifolia (Tea Tree) Leaf Oil, Glyceryl Oleate Citrate, Carthamus Tinctorius (Safflower) Seed Oil, Olea Europaea (Olive) Fruit Oil, Caprylic/Capric Triglyceride, Chlorphenesin, Eucalyptus Globulus (Eucalyptus) Leaf Oil, Polyacrylate Crosspolymer-6, Lactic Acid, Cinnamomum Zeylanicum (Cinnamon) Leaf Oil, Citrus Limon (Lemon) Peel Oil, Foeniculum Vulgare (Fennel) Oil, Lavandula Angustifolia (Lavender) Oil, Rosa Canina (Rosehip) Fruit Oil,Thymus Vulgaris (Thyme) Oil, Sodium Lactate, Phenoxyethanol, Ethylhexylglycerin, Mentha Piperita (Peppermint) Oil, Tocopherol, Sodium Phytate, Hippophae Rhamnoides (Sea Buckthorn) Fruit Oil, Limonene, Eugenol, Linalool, Benzyl Benzoate, Cinnamal, Citral, Geraniol, Cinnamyl Alcohol

Topida Intimate Hygiene Wash:
Aqua, Decyl Glucoside, Glycerin, Caprylyl/Capryl Glucoside, Lactic Acid, Xanthan Gum, Sodium Benzoate, Hamamelis Virginiana Leaf Extract, Potassium Sorbate, Chamomilla Recutita Flower Extract, Melaleuca Alternifolia Leaf Oil, Tocopheryl Acetate, Lavandula Angustifolia Extract, Linalool, Lavandula Hybrida Oil, Linalyl Acetate, Rosa Damascena Flower Oil
Share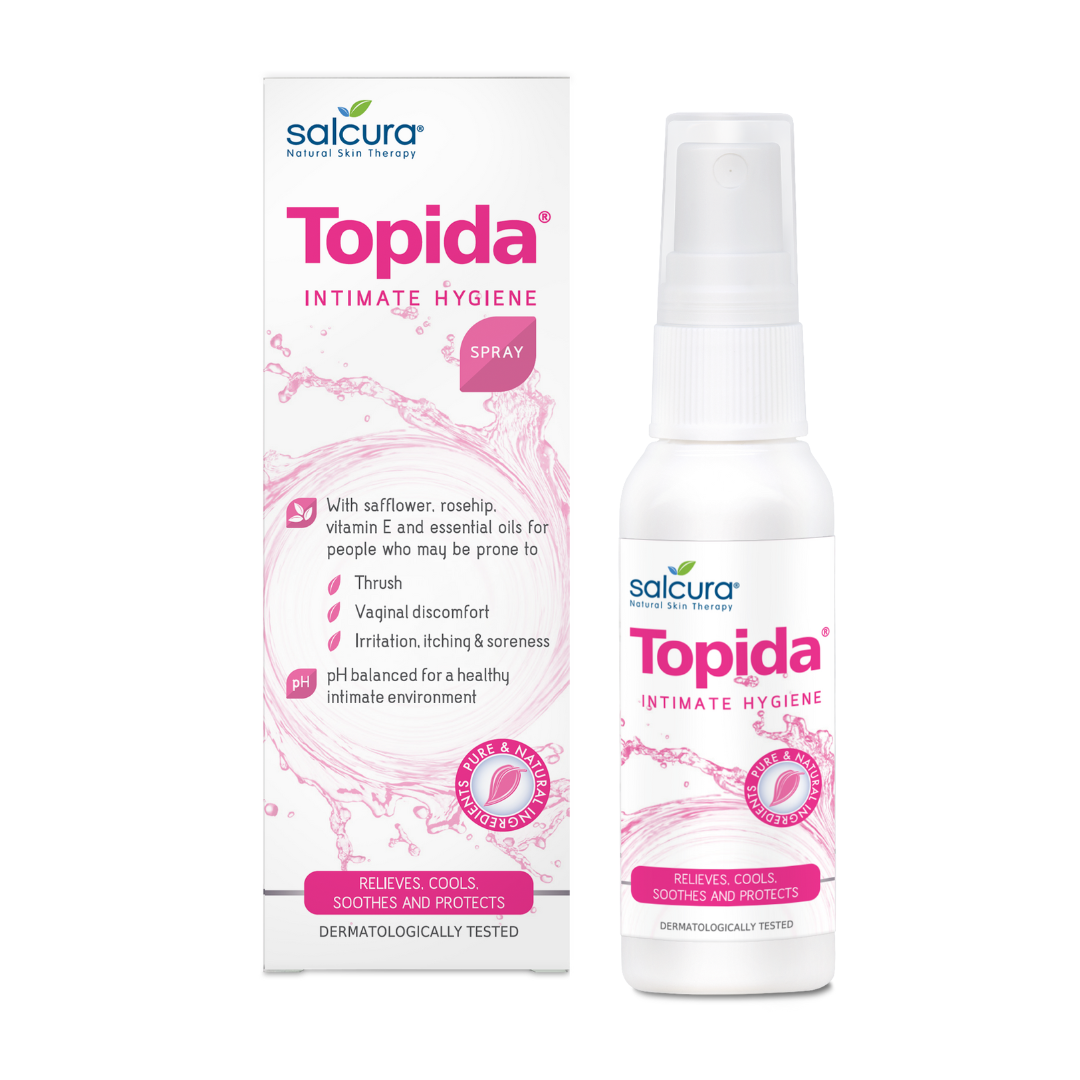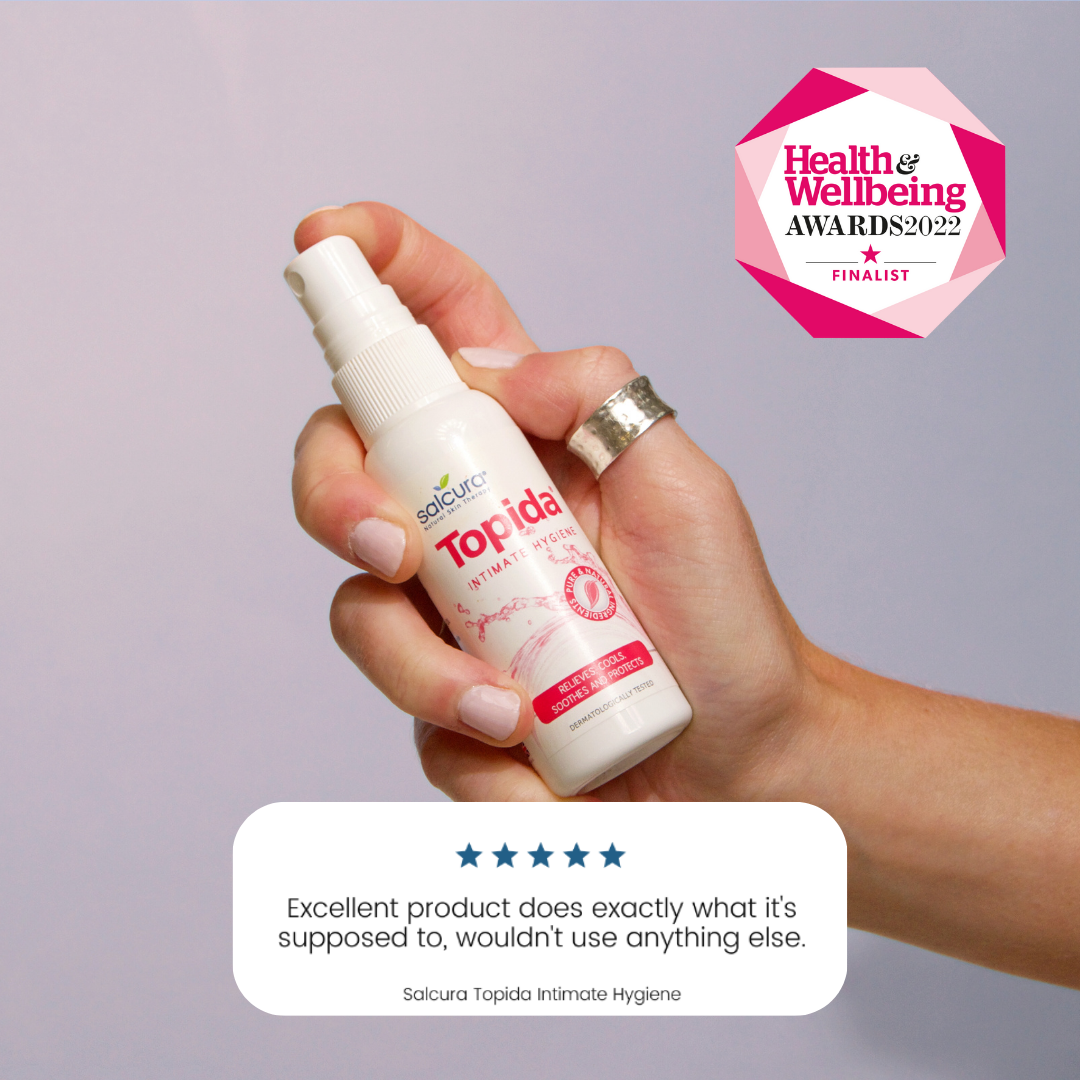 FAQs
Why do I need a separate wash for the intimate area?

Every part of our body needs to be dealt with with care & knowledge. We know that the vagina (internal) is self-cleansing however, imbalances to the pH of the vulva and vagina can occur due to age, menstrual cycle, menopause etc. This can lead to the build-up of unhealthy bacteria, yeast infections, itchiness, and soreness. We need to be cautious of the pH (which is very acidic in this area) by not applying harsh, fragranced products that remove natural oils or moisture from the skin and adopting good vulva hygiene.
How should I use Topida?

Our Topida Intimate Hygiene products are for external use only in the intimate female area. The product is designed for the vulva (the external genital area and not the vagina).

Does Topida Intimate Hygiene Spray sting?

We avoid ingredients that are widely accepted to be unsuitable for sensitive or problem skin.

If you have highly sensitive skin, make sure to patch test to ensure the natural oils do not sting too much. The oils do no harm, but we do not want it to be uncomfortable either of course! On the rare occasion that it does sting a little, please know that it will subside quickly as the skin gets used to all the natural oils.
Are your products vegan friendly?

Yes, all our products are vegan-friendly and cruelty-free.