Bioskin Face Care Duo Pack
Regular price

£26.98

Sale price

£20.24
The duo packs include both firm favourites for many of our customers, from our award-winning Bioskin range- Bioskin Face Wash & Bioskin Dermaserum. 
Containing many natural oils and extracts, like Sunflower, Almond and Aloe Vera, the natural powerhouses will feed your skin the healthy nutrients it needs to become stronger and reduce symptoms of dryness, redness, itchiness and rosacea.

Save 25% on our Bioskin Face Duo Pack containing:
1 x Bioskin Face Wash (RRP £12.99)
Bioskin Face Wash is a natural wash to gently cleanse all impurities from the dry, itchy and sensitive skin. Our 'nasties-free' nutrient rich formulation will leave your skin feeling soft and smooth. Containing gorgeous natural oils and extracts like Argan, Witch Hazel and Green Tea, the Omega Rich Face Wash will make your skin feel deeply nourished and hydrated.
1 x Bioskin Dermaserum (RRP £13.99)
Known as a  little 'vitamin-bomb' for the face, as it contains so many natural oils and extracts. Bioskin Dermaserum is a beautiful, gentle and light face serum, which can be used on a daily basis to ensure deeply hydrated and nourished skin. Especially for people who are known to have dry to very dry skin, this nutrient-rich serum will make your skin feel more balanced and healthy.
How it works

When suffering from dry, itchy and sensitive skin cleansing the face can be an unpleasant experience, especially when living in an area where the water is hard

The Face Wash is the perfect addition to your other Bioskin favourites. When suffering from dry, itchy & sensitive skin your skin needs more than what a regular Face Wash might be able to offer.

Bioskin DermaSerum is a practical everyday-use moisturising serum formulated for use on the face, including around the eyes. This practical and easy to use serum nourishes dry to severely dry and sensitive skin.
How to use

1. Start your morning or evening routine with Bioskin Face Wash

2. Apply the Face Wash to damp skin and massage it in. Leave it on the skin for a short while. Rinse off and dab dry. Be aware our Face Wash will not lather as much as you might be used to, as we do not contain harsh foaming agents.

3. Apply a generous amount of Bioskin Dermaserum

4. Gently pat or rub the serum into the skin, whichever is more comfortable.

Tip: If you feel like your skin is in need of some extra hydration or nourishment, feel free to apply the DermaSerum multiple times a day or mix it in with your foundation.
Ingredients

Bioskin Face Wash

Aqua, Lauryl Glucoside, Glycerin, Cocamidopropl Betaine, Xanthan Gum, Starflower Essential Leaf Extract (Borago Officinalis Leaf Extract), Green Tea Leaf Extract (Camellia Sinesis Leaf Extract), Purple Coneflower Extract (Echinacea Purpurea Extract), Witch Hazel Leaf Extract (Hamamelis Virginiana Leaf Extract), Phenoxyethanol, Sunflower Seed Oil (Helianthus Annus Seed Oil), Limonene, Grapefruit Peel Oil (Citrus Grandis Peel Oil), Sea Buckthorn Kernel Extract (Hippophae Rhamnoids Kernel Extract), Ethylhexylglycerin, Lemon Peel Oil (Citrus Limon Peel Oil), Caprylyl Glycol, Argan Kernel Oil (Argania Spinosa Kernel Oil), Safflower Oil (Carthamus Tinctorius Seed Oil), Jojoba Seed Oil (Simmondsia Chinensis Seed Oil), Citral, Beta-Carotene

Bioskin Dermaserum

Aqua, Glycerin, Sunflower Seed Oil (Helianthus Annuus Seed Oil), Safflower Seed Oil (Carthamus Tinctorius Seed oil), Phenoxyethanol, Carbomer, Grape Seed Oil (Vitis Vinifera Seed oil), Isononyl Isononanoate, Potassium Hydroxide, Sea Buckthorn Kernel Extract (Hippophae Rhamnoides Kernel Extract), Eucalyptus Leaf Oil (Eucalyptus Globulus Leaf Oil), Tea Tree Leaf Oil(Melaleuca Alternifolia Leaf Oil), Urea, Sweet Orange Peel Oil (Citrus Aurantium Dulcis Peel Oil), Acrylates/c10-30 Alkyl Acrylate Crosspolymer, Ethylhexylglycerin, Caprylyl Glycol, Sodium Chloride, Lavender Extract (Lavandula Angustifolia Extract), Olive Oil(Olea Europaea Fruit oil), Sweet Almond Oil (Prunus Amygdalus Dulcis Oil), Rosemary Leaf Extract (Rosmarinus Officinalis Leaf Extract), Lavandin Oil (Lavandula Hybrida Oil), Camphor Tree Leaf Oil (Cinnamomum Camphora Formosana Leaf Oil), Linalyl Acetate, Pine Leaf Twig Extract (Pinus Species Twig Extract), Rosemary Leaf Oil (Rosmarinus Officinalis Leaf Oil), Peppermint Oil (Mentha Piperita Oil), Aloe Vera Leaf Juice Powder (Aloe Barbadensis Leaf Juice Powder), Camphor, Beta-Carotene
Share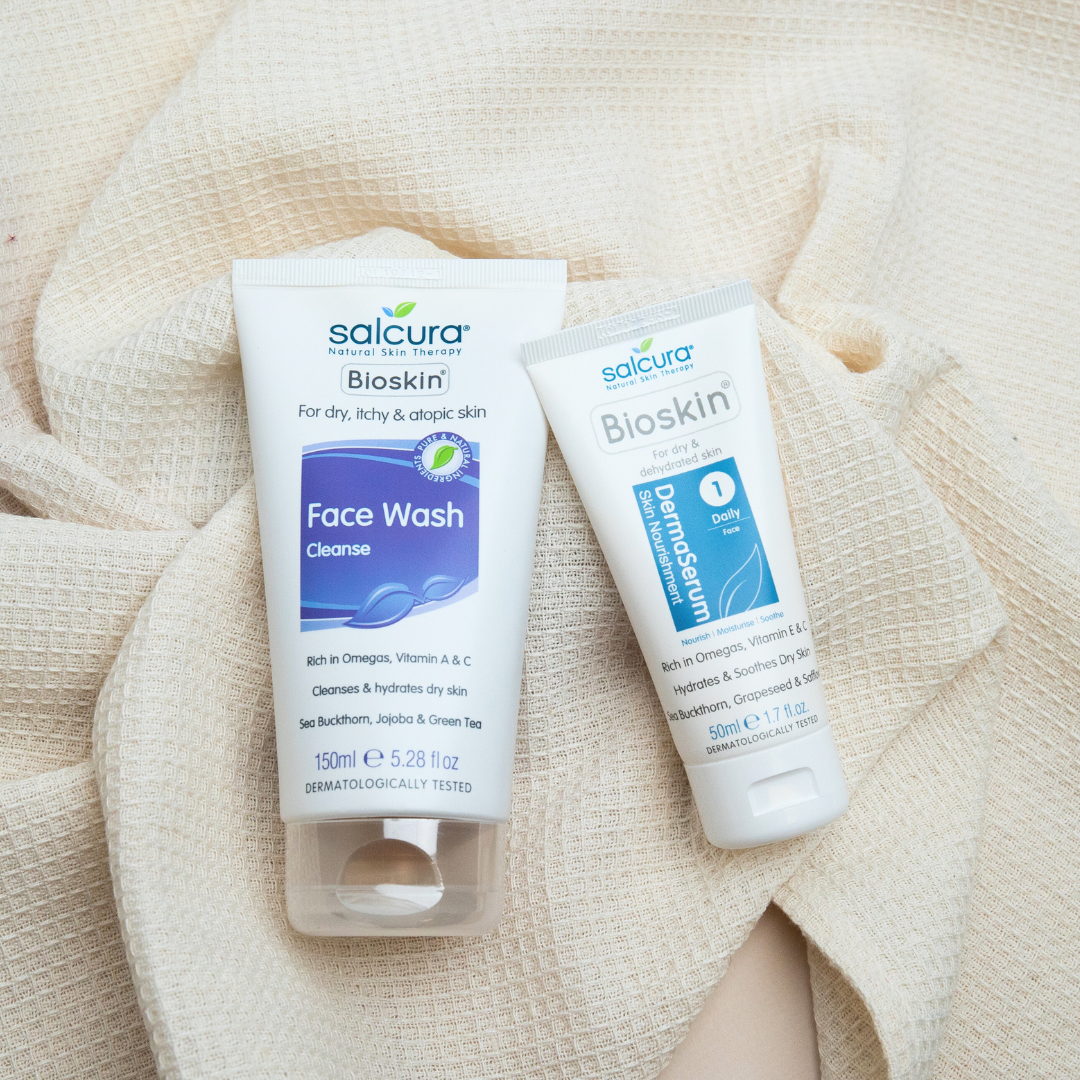 FAQs
Who can use Bioskin Face Care Duo?

These products are delicately made for severely dry, dry and itchy skin. It also helps those with inflamed and irritated skin and soothes skin conditions such as sunburn and rosacea. Plus it's highly suitable for eczema and psoriasis-prone skin.
How long should I use it for?

Use this gentle duo day and/or evening as part of your skincare regiment.
How do I avoid drying out my facial skin?

When suffering from dry skin, try and keep the shower at a lukewarm temperature as hot water can dehydrate the skin even further. Avoid using too many cleansers and exfoliators as this can strip away the skin's much-needed natural oils.
Are your products vegan friendly?

Yes, all our products are vegan-friendly and cruelty-free.