Antiac Activ Liquid Spray
Regular price

Sale price

£10.99
Antiac Activ Liquid Spray has been specifically designed to successfully help anyone suffering from oily, congested and acne-prone skin.
The fine liquid of our unique Antiac Activ Liquid Spray sinks deep into the skin, cleansing and treating the skin deeper than any cream, gel or wash ever would be able to. Removes bacteria buildup without stripping the skin of its natural oils.
What makes the Antiac Activ Liquid Spray unique? 
Contains Skinwell DFA & ZPA plus, proven to significantly reduce symptoms of acne.

Suitable to treat acne on the face and body

Won the "Best Acne Product" accolade on the Channel 4 Program "Embarassing Bodies".

Doubles as a deep cleanser and treatment product, leaving the skin refreshed, cleansed and soothed.



Tip: Use in conjunction with our Antiac Activ Gel Serum to target individual spots more effectively. For other Antiac products, shop the full range here. 
How it works

The Spray is a fine liquid formula, containing natural ingredients that penetrate the skin to quickly target spots and blemishes; the fine liquid formula also doubles as a deep cleanser as well as a treatment – just use it with a cotton pad and watch the dirt & bacteria come straight off!

The Antiac Activ Spray is packed with natural oils and extracts, that sink deep into the skin to help reduce symptoms associated with acne, spots, blemishes and blackheads.
How to use

You can use our Antiac Activ Liquid Spray in one of two ways:

1. Spray onto the face and gently cleanse it by using a cotton pad to remove the excess liquid.

Or:

2. Spray directly onto the targeted area(s) in the face/body, so the body can absorb the Spray's full vitamins and minerals.

4. Use our Antiac Activ products in conjunction with our Antiac Daily Face Wash to have the perfect daily regime of your oily, congested and acne-prone skin.

Allergy advice: All our products have been developed for sensitive skin; however, we always recommend doing a patch test.

Ingredients

Aqua, Aloe Barbadensis Leaf Juice (Aloe Vera), Glycerin, Caprylyl/Capryl Wheat Bran/Straw Glycosides, Melaleuca Alternifolia Leaf Oil (Tea Tree), Lecithin, Zinc PCA, Bisabolol, P-Anisic Acid, Calendula Officinalis Extract (Calendula Extract), Chamomilla Recutita Flower/Leaf Extract (Chamomile Leaf Extract), Hippophae Rhamnoides Kernel Extract (Sea Buckthorn), Lavandula Angustifolia Oil (Lavender Oil), Rosmarinus Officinalis Leaf Oil (Rosemary Leaf Oil), Mentha Piperita Oil (Peppermint Oil), Citrus Aurantium Dulcis Peel Oil (Sweet Orange Peel Oil), Eucalyptus Globulus Leaf Oil (Eucalyptus Leaf Oil), Tocopheryl Acetate, Cetearyl Glucoside, Fusel Wheat Bran/Straw Glycosides, Phenoxyethanol, Limonene, Benzyl Alcohol, Decyl Glucoside, Glyceryl Caprylate, Polyglyceryl-5 Oleate, Sodium Cocoyl Glutamate, Linalool, Citral, Geraniol, Alcohol, Arginine, Glyceryl Laurate, Polyglyceryl-3 Caprylate, Polyglyceryl-4 Caprate
Share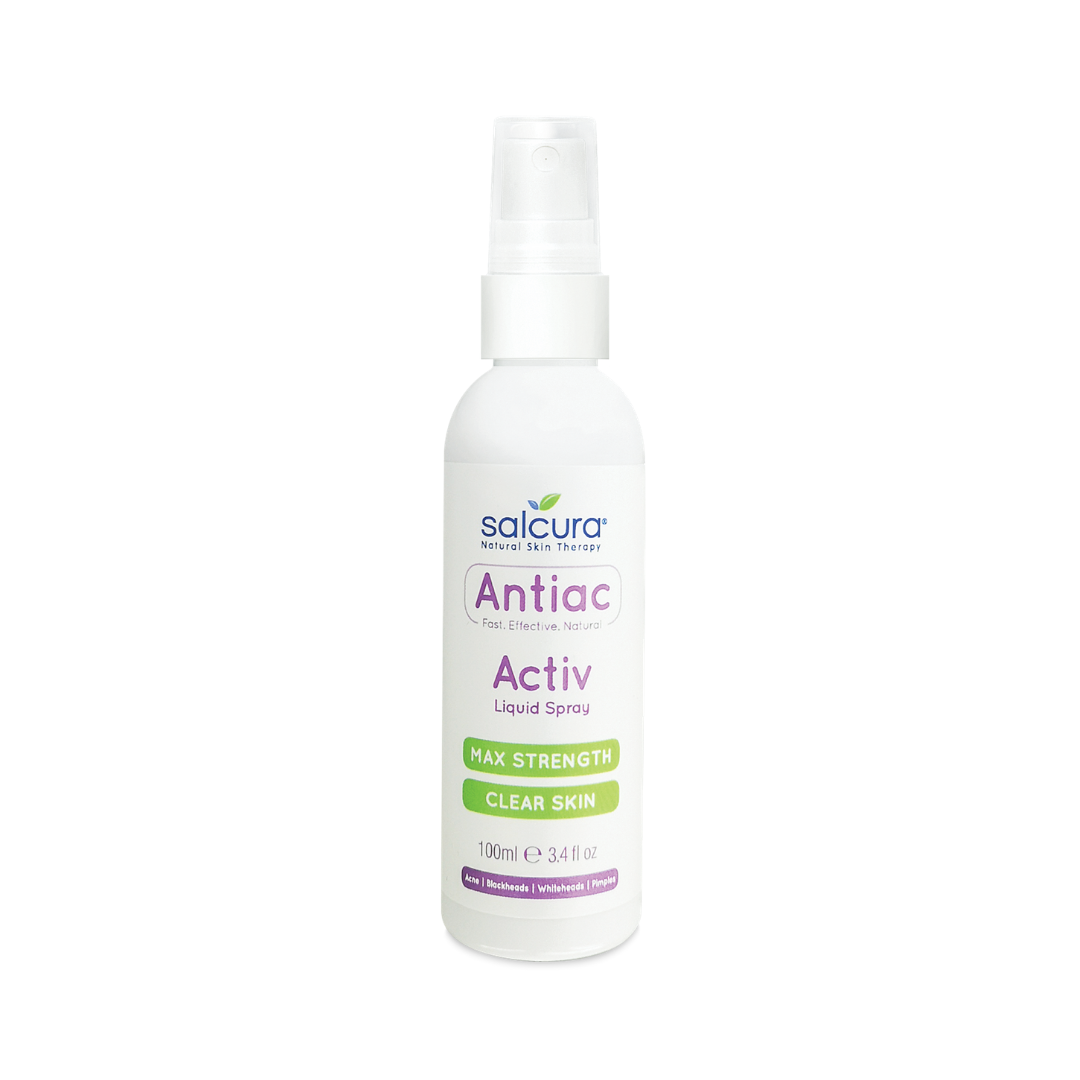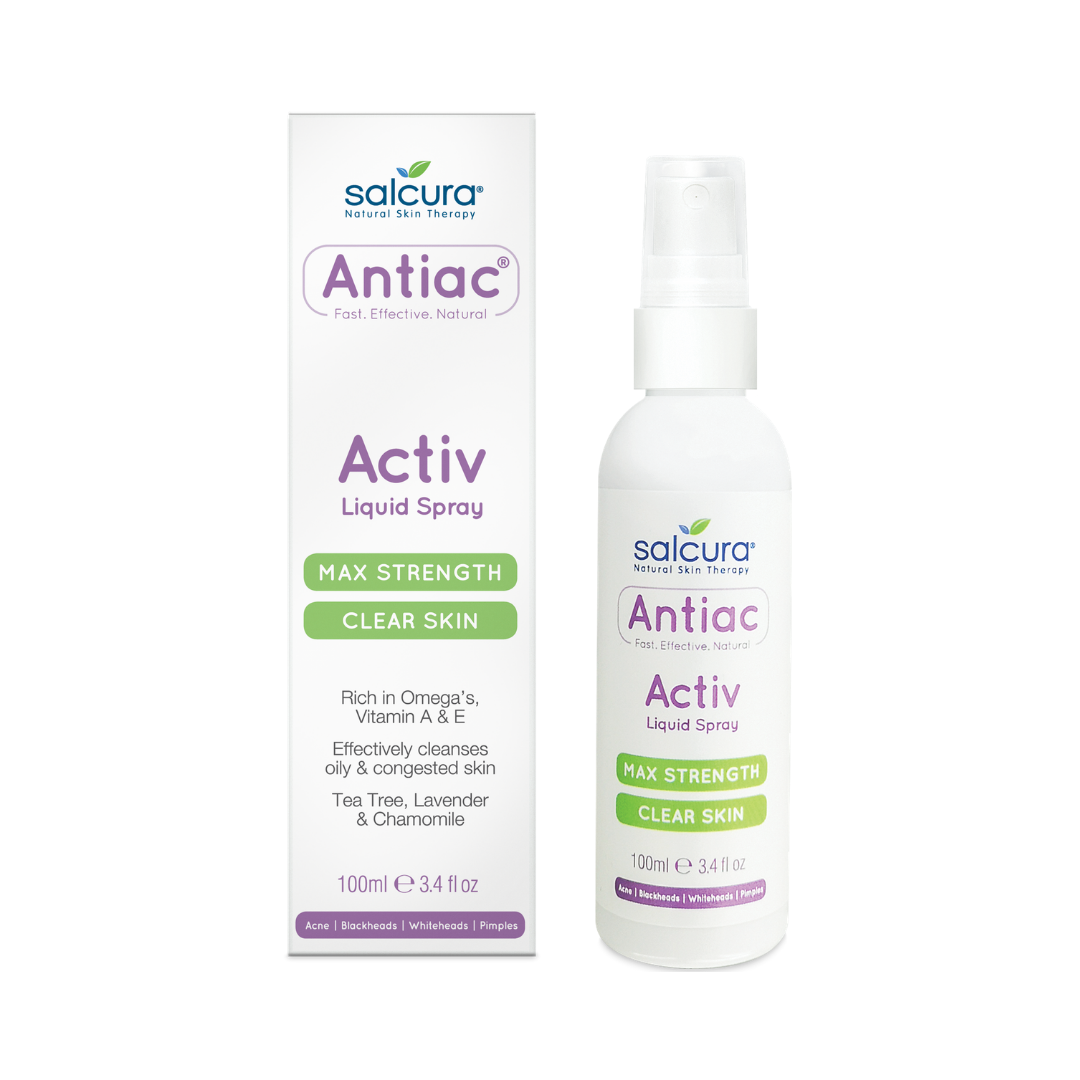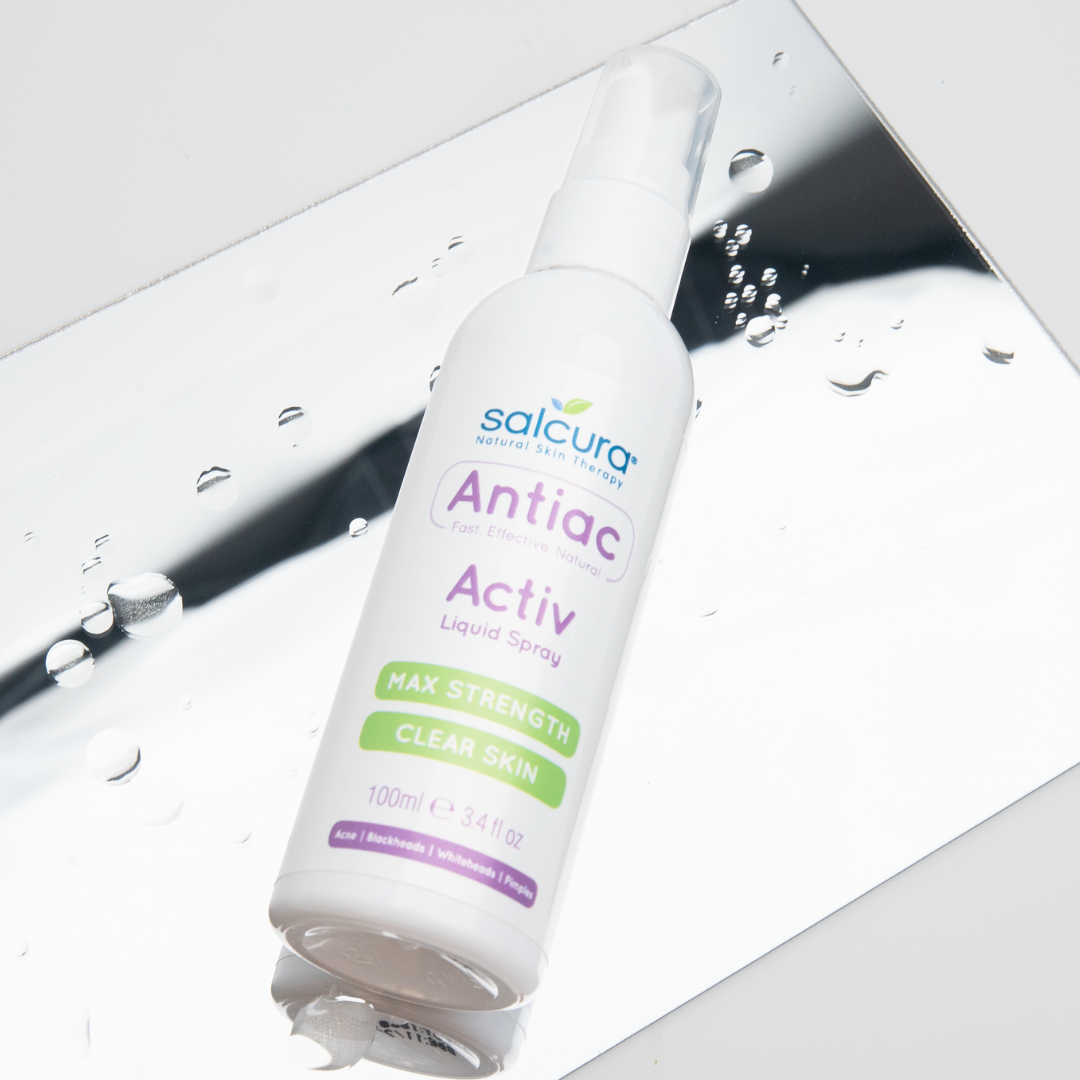 FAQs
Who can use Antiac Activ Liquid Spray?

This intensive natural acne spray is formulated for anyone with moderate to severe acne on the face & body. A gentle option for those who want an effective but non-drying acne treatment.
Unlike other harsh acne rescue products, our liquid spray will not leave your face feeling tight and dried out.
How long will it take before I see results?

All skin is different so how quickly you see improvement varies per person. We have however designed our products to ensure you will see a visible improvement within one life cycle of the skin, which takes 28 days. When it comes to the skin and its challenges, please bear in mind that an overnight 'cure' does not exist. The skin needs time to find a balance again, plus other factors might come into play – what other products are you using or have you used, what diet do you follow, etc.

We try and make our products as effective as possible, providing you with a long term and sustainable solution, but we do ask you to be patient and persistent. Make sure to use the products as instructed for optimal results.
What do I use first, the Antiac wash or Spray?

In the Antiac range we currently have 3 products, 2 Activ products and 1 Daily product. We recommend using the Activ Spray and Gel Serum on the days when the skin needs more care and attention. Use the Spray to deeply cleanse the skin. The liquid of the Spray sinks deep into the skin and is able to cleanse from the inside out. Let the Spray sink in to ensure your skin gets fed the healthy nutrients.

You can add the Gel Serum on the spots and blemishes that need targeted relief. We recommend using The Daily Wash products when your skin is in a good place and only needs maintenance. The gentle cleanser will allow your skin to thrive and glow.
Are your products vegan friendly?

Yes, all our products are vegan-friendly and cruelty-free.