Antiac Acne Rescue Pack (FREE Gel Serum)
Regular price

£33.47

Sale price

£23.48
Specially designed for those with oily & acne prone skin. Containing clinically proven ingredients and effective natural extracts and oils, the Antiac range supports your skin back to finding its own healthy balance.

Try out Antiac Acne Range and get the Activ Gel Serum-free, saving you £9.99! Our Rescue Pack includes:

1 x Antiac Daily Face Wash (RRP £12.49)
Antiac Daily Face Wash is our best-selling pH neutral daily wash product for anyone with oily, congested, and acne-prone skin. The Wash will help balance the skin's natural oiliness and replenish moisture in the skin, leaving it to feel refreshed and hydrated.

1 x Antiac Activ Liquid Spray - 50ml (RRP £10.99)

Our Antiac Activ Liquid Spray has been specifically designed to successfully help anyone suffering from oily, congested, and acne-prone skin. A Spray for the face (and body) may seem unconventional, but trust us and all those fans who have found out about Antiac before you - you will love it!

1 x Antiac Activ Gel Serum (RRP £9.99) 
Our Antiac Activ Gel Serum has especially been designed to help those with oily and acne-prone skin. The strong combination of clinically proven ingredients and other natural ingredients known to support acne-prone skin make this product incredibly effective to deal with reducing the redness and size of any unevenness in as little a 4 hours.
How it works

The Antiac range is filled with natural oils and extracts all designed to help the skin. Plus they contain the clinically proven ingredients Skinwell DFA and ZPA plus. These last two ingredients have the proven ability to significantly reduce the bacteria associated with Acne symptoms.

The natural oils and extracts containing lots of vitamins and minerals will ensure your face is provided with the right nutrients to find a healthy balance.

How to use

1. Antiac Daily Face Wash
On the calmer days, use every morning and evening. Squeeze into hands and massage gently onto a wet face. Leave on the skin for a little while and rinse off with lukewarm water. Gently pat dry.

2. Antiac Activ Liquid Spray
On the more severe days, use morning and evening when necessary. Spray onto the face and gently cleanse your face by using a cotton pad to remove the liquid of your face.

When suffering from severe acne symptoms, spray the liquid on the face again and let it sink into the skin or gently massage it into the skin (make sure your hands are clean before doing so to avoid any additional bacteria being rubbed into the skin!).

3. Antiac Activ Gel Serum
Apply directly onto breakouts as they appear. Repeat the application until the spots or blemishes have disappeared.
Share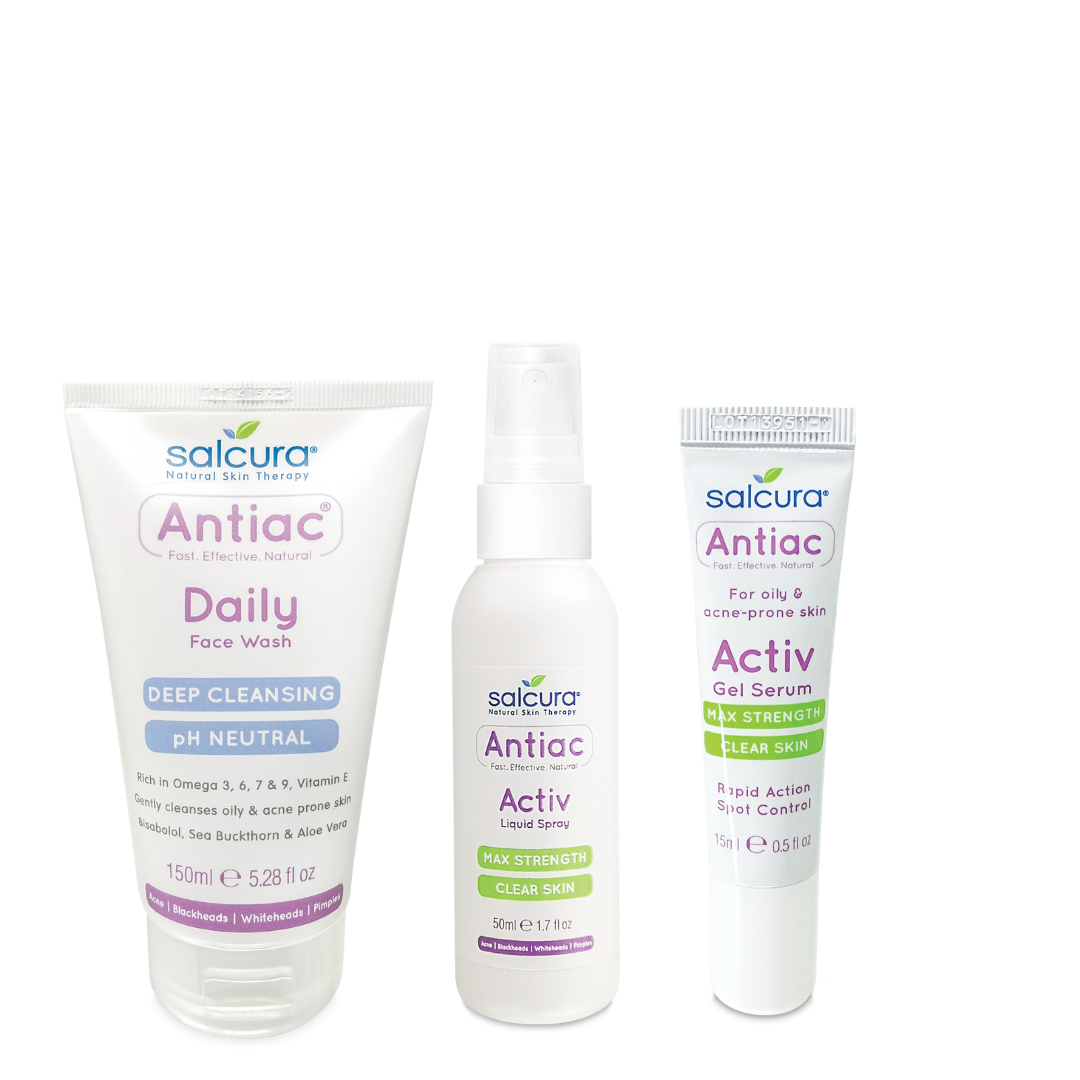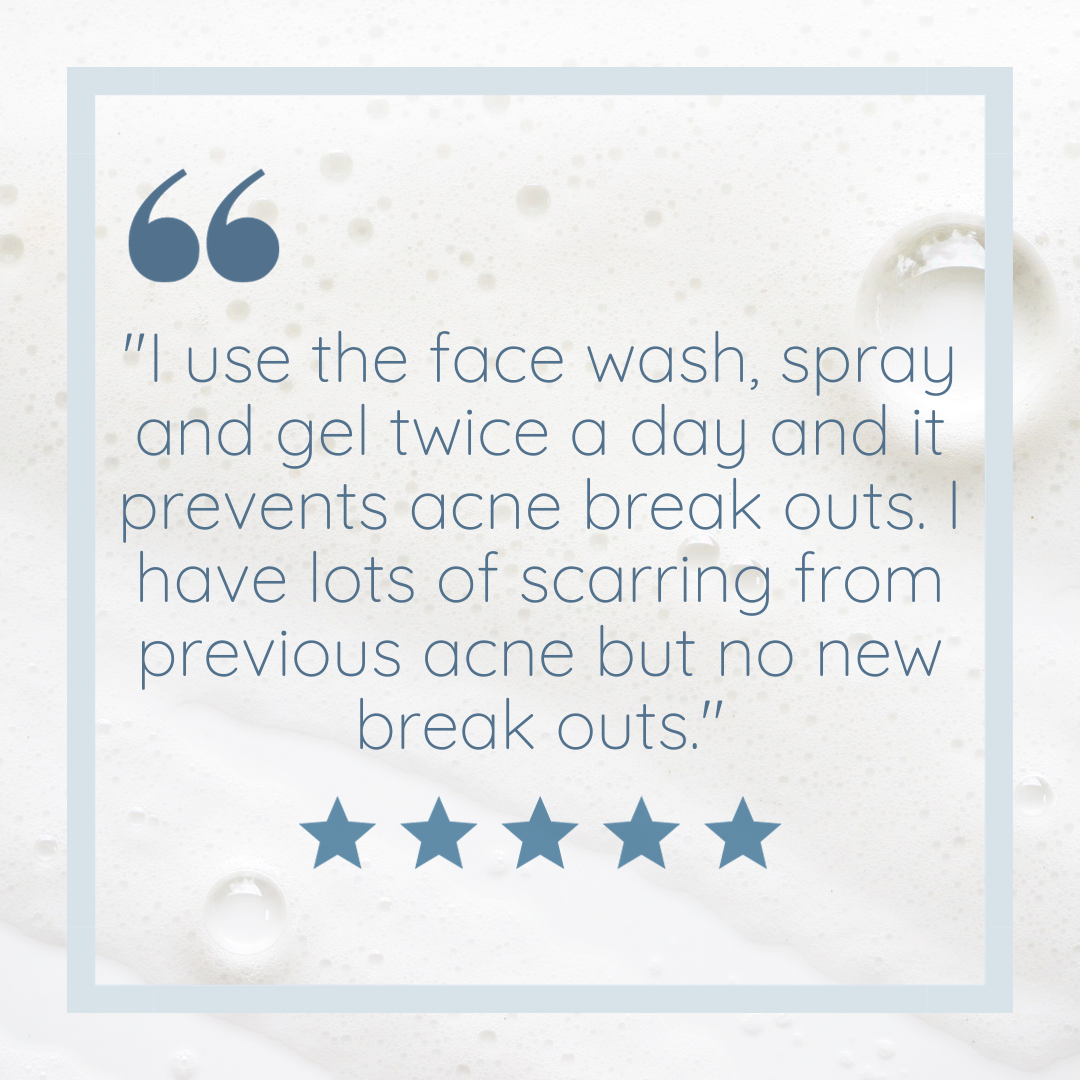 FAQs
What do I use first, the Antiac wash or Spray?

In the Antiac range we currently have 3 products, 2 Activ products and 1 Daily product. We recommend using the Activ Spray and Gel Serum on the days when the skin needs more care and attention. Use the Spray to deeply cleanse the skin. The liquid of the Spray sinks deep into the skin and is able to cleanse from the inside out. Let the Spray sink in to ensure your skin gets fed the healthy nutrients.

You can add the Gel Serum on the spots and blemishes that need targeted relief. We recommend using The Daily Wash products when your skin is in a good place and only needs maintenance. The gentle cleanser will allow your skin to thrive and glow.
How long will it take before I see results?

All skin is different so how quickly you see improvement varies per person. We have however designed our products to ensure you will see a visible improvement within one life cycle of the skin, which takes 28 days. When it comes to the skin and its challenges, please bear in mind that an overnight 'cure' does not exist. The skin needs time to find a balance again, plus other factors might come into play – what other products are you using or have you used, what diet do you follow, etc.

We try and make our products as effective as possible, providing you with a long term and sustainable solution, but we do ask you to be patient and persistent. Make sure to use the products as instructed for optimal results.
Antiac products use essential oils, will this clog my pores?

Not at all, our unique formulas have been designed to help reduce bacteria trapped in the pores of the skin and to reduce redness and inflammation. All non-comedogenic!

Are your products vegan friendly?

Yes, all our products are vegan-friendly and cruelty-free.