Bioskin DermaSpray Intensive
Regular price

£16.99

Sale price

£16.99
Bioskin Dermaspray Intensive is an instantly cooling spray formulated to relieve symptoms of irritation and itchiness in those with severely dry, itchy and irritated skin. The fine liquid of the Spray sinks deep into the skin, feeding it all the nutrients needed to become stronger and healthier.  

The spray application makes the product easy to use as it is non-greasy and it does not need rubbing in. It can also be applied on larger parts of the body or even on more difficult-to-reach areas, like the itchy scalp.

What makes the Dermaspray Intensive unique?

Instantly cools the skin and breaks the itch-scratch cycle
Contains Omegas such as Sea Buckthorn to improve skin hydration
Free from parabens, paraffin, synthetic fragrance, microplastics and nanoparticles
Dermatologically tested and suitable for those with eczema, psoriasis, & dermatitis
Tip: Use in conjunction with our Bioskin Zeoderm Skin Repair Moisturiser for optimal results. Learn more about our two-step therapy system here.

How it works

Packed with a multitude of natural oils that all aid the skin in becoming stronger and healthier. Think of Sea Buckthorn, rich in Omega's, Lavender to soothe the skin and Safflower as an anti-oxidant.

The fine liquid of the Spray sinks into the skin and gets absorbed much deeper than any thick cream ever could. When sprayed onto the skin the liquid sinks below the epidermal (foreskin) layers. As the skin rejuvenates itself every 28 days, we are able to reach the newly forming skin cells much earlier in their life cycle, making them much stronger when they reach the surface.
How to use

1. Apply at least 3-4 times a day initially onto the affected areas.

2. Reduce this application frequency as the symptoms subside.

3. When skin has returned to relative normality, continue using the product to top the skin up with DermaSpray's vital nutrients at least 2-3 times per week. This should keep the symptoms under control.

4. When applying to the face and around the eyes, we suggest spraying onto a cotton pad then wiping onto the skin to give more control over the spray
action and to avoid contact with eyes. Or opt for our Bioskin Dermaserum for the face.

For more severe patches of atopic skin, use the Dermaspray in conjunction with our Bioskin Zeoderm. Apply the Zeoderm after the Spray has sunk into the skin.
Ingredients

Aqua, Glycerin, Helianthus Annuus Seed Oil, Carthamus Tinctorius Seed Oil, Glycol Stearate Se, Polyglyceryl-6 Stearate, Sodium Cetearyl Sulfate, Phenoxyethanol, Lecithin, Vitis Vinifera Seed Oil, Isononyl Isononanoate, Hippophae Rhamnoides Kernel Extract, Eucalyptus Globulus Leaf Oil, Urea, Limonene, Citrus Aurantium Dulcis Peel Oil, Melaleuca Alternifolia Leaf Oil, Polyglyceryl-6 Behenate, Caprylyl Glycol, Sodium Chloride, Lavandula Angustifolia Oil, Rosmarinus Officinalis Leaf Oil, Ethylhexylglycerin, Olea Europaea Fruit Oil, Prunus Amygdalus Dulcis Oil, Linalool, Aloe Barbadensis Leaf Juice Powder, Mentha Piperita Oil, Citral, Rosmarinus Officinalis Leaf Extract, Beta-Carotene
Share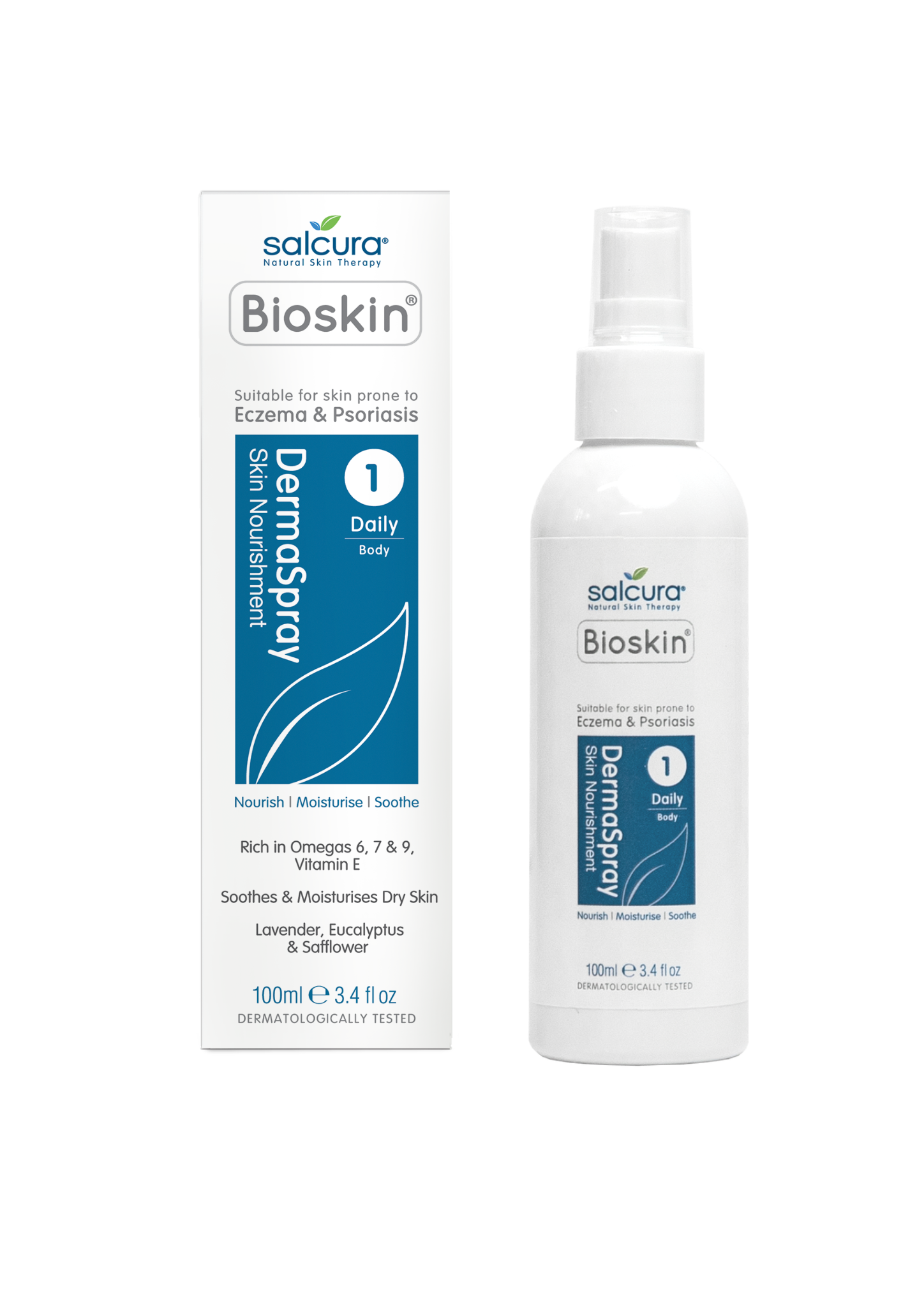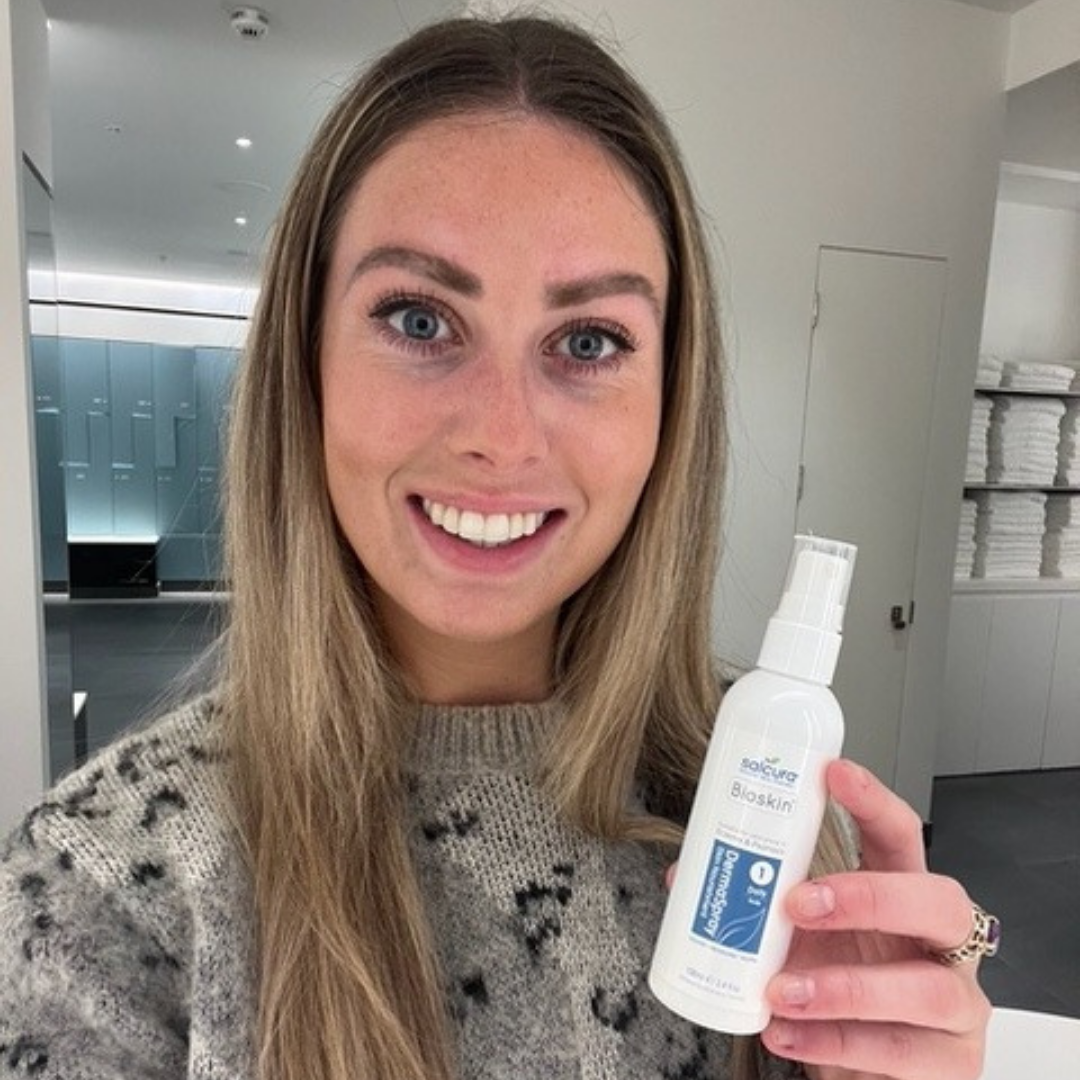 FAQs
Who can use DermaSpray Intensive

Bioskin Dermaspray 'Intensive' was originally developed over 10 years ago with the belief that the skin can overcome any problems when given the right nutrients and care.

For years, this spray has been a skin saviour for those with symptoms of itchy, dry to severely dry skin and is ideal for those suffering from eczema or psoriasis.
How long will it take before I see results?

Most people will experience an instant cooling sensation with the itching being reduced almost instantly. Significant improvement of the health of the skin might take a bit longer as in some cases the skin needs time to detox and rebuild its strength. Every person is unique and every skin is different!
How does a spray work for dry skin?

At Salcura we love using Sprays, we have one in each of our product ranges! Dr Schiele originally developed the Sprays as he was trying to mimic the body's natural fluids (such as blood and sweat). By mimicking the body's fluids, it made it so much easier for the skin to not only absorb the fine liquid in the Spray quickly and deeply (more so than with a cream), it also allows the body to more easily absorb all the vitamins and minerals found in the Spray products.

Lastly, the Spray formulation allows us to put a lot more natural oils in the product than we could ever do with a cream consistency!
Are your products vegan friendly?

Yes, all our products are vegan-friendly and cruelty-free.