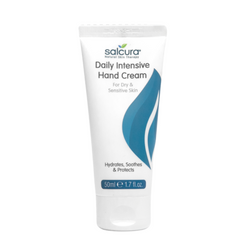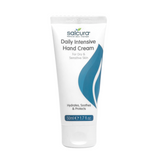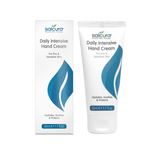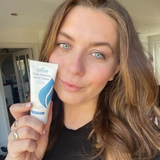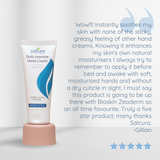 Brand New Salcura Daily Intensive Hand Cream
For dry to severely dry and eczema-prone hands
Rich in natural oils & extracts - Olive, Safflower, Sea Buckthorn, Aloe Vera, Chamomile & Rosemary

Naturally derived, scientifically proven active ingredients - Urea, Glycerin & Lactic Acid

A light, non-sticky formula to absorb quickly, feeding the skin healthy nutrients, alleviating dry, rough skin issues

Contains no nasties, no perfume or other synthetic skin irritants. Vegan-friendly & Cruelty- Free
With a pH of 4.6 (skin average is 4.7), the Hand Cream offers a perfect daily moisturiser for dry hands, and even for hands prone to skin problems.
Every day we disturb our natural pH balance by washing our hands, using hand sanitiser, typing, cooking - our hands never stop. Even more so for those with manual jobs, like beauticians, nurses, hairdressers, doctors, and so on - keeping your hands healthy is a challenge!
The Salcura Daily Intensive Hand Cream will nourish, hydrate and soothe those dry, rough hard-working hands.
 This product has now been Dermatologically tested with the status 'Excellent'

Our Daily Intensive Hand Cream has especially been developed for those with dry to severely dry and eczema-prone hands. Although small in size is packed to the brim with everything your hands need.
Our hands are almost always exposed to the cold. ⁠When the weather turns cold, the air dries out and the body cannot hold onto moisture. Because the skin on our hands does not produce as many natural oils as the rest of your body, it is more prone to dryness.
Utilising a wealth of natural ingredients including Safflower, Urea and Olive to seal in nourishment, it absorbs quickly and gives hands a satin, rather than a sticky, feel that lasts. Added flower and herb extracts such as rosemary and chamomile are mixed in too, helping to soothe inflammation and quell itchiness.
This product has now been Dermatologically tested with the status 'Excellent'
Aqua, Glycerin, Urea, Linseed Seed Oil (Linum Usitatissimum Seed Oil), Cetearyl Alcohol, Olive Oil (Olea Europaea Fruit Oil), Zeolite, Cetearyl Glucoside, Starflower Leaf Extract (Borago Officinalis Leaf Extract), Castor Seed Oil (Ricinus Communis Seed oil), Jojoba Seed Oil (Simmondsia Chinensis Seed Oil), Phenoxyethanol, Sodium Cetearyl Sulfate, Ethylhexlglycerin, Caprylyl Glycol, Palmarosa Oil (Cymbopogon Martini Oil), Lavender Oil (Lavendula Augustifolia Oil), Rose Geranium Oil (Pelargonium Graveolens Oil), Rose Flower Water (Rosa Damascena Flower Water), Citronellol, Geraniol, Phenethyl Alcohol, Linalool
Use the Daily Intensive Hand Cream at least 3-4 times a day initially onto the affected areas. Gently pat or rub the hand cream into the skin, whichever is more comfortable. If you feel like your skin is in need of some extra hydration or nourishment, feel free to apply the hand cream multiple times a day.
If you suffer from severely dry hands, eczema or psoriasis, use our Daly Intensive Hand Cream in conjunction with our Bioskin Zeoderm Skin Repair Moisturiser. Use the Zeoderm after the cream has been absorbed into the skin.