Daily Intensive Hand Cream
Regular price

Sale price

£13.99
With a pH of 4.6 (skin average is 4.7), our Daily Intensive Hand Cream offers a perfect daily moisturiser for dry hands, and even for hands prone to skin problems.
Daily activities such as handwashing, hand sanitising, and cooking disrupt our natural skin pH balance. This is particularly true for individuals with manual occupations, who might find it challenging to maintain healthy soft hands. Our hand cream will nourish, hydrate, and soothe those dry, rough hard-working hands.
What makes Daily Intensive Hand Cream unique?
Developed for dry to severely dry and eczema-prone hands

Naturally derived, scientifically proven active ingredients - Urea, Glycerin & Lactic Acid

Enriched with a blend of 10 natural oils and extracts, our formula not only supports the health of your hands but also delivers antibacterial properties

The lightweight, non-sticky formula absorbs quickly, feeding the hands healthy nutrients to alleviate dry, rough skin issues
Dermatologically tested

 

and deemed 'excellent' for sensitive skin
How it works

Free from skin-irritating chemicals such as SLS/SLES, paraffin, parabens, or synthetic fragrances, our hand cream is packed with skin-loving natural ingredients such as Linseed Seed Oil, Olive Oil, and Jojoba Seed Oil. All of these ingredients work together to nourish and alleviate severely dry, cracked and irritated hands.

Using scientifically proven active ingredients such as Urea, Glycerin, and Lactic Acid, they encourage the shedding of dead skin cells and provide moisture to dry and flaky skin. Resulting in soft and smooth hands.


How to use

1. Apply Daily Intensive Hand Cream to clean hands at least 3-4 times a day. Gently pat or rub the hand cream into the skin, whichever is more comfortable.

2. If you feel like your skin is in need of some extra hydration or nourishment, feel free to apply the hand cream multiple times a day.

3. If you suffer from severely dry hands, eczema or psoriasis, use our Daly Intensive Hand Cream in conjunction with our Bioskin Zeoderm Skin Repair Moisturiser. Use the Zeoderm after the cream has been absorbed into the skin.

Allergy advice: All our products have been developed for sensitive skin, however, we always recommend doing a patch test.
Ingredients

Aqua, Glycerin, Urea, Linseed Seed Oil (Linum Usitatissimum Seed Oil), Cetearyl Alcohol, Olive Oil (Olea Europaea Fruit Oil), Zeolite, Cetearyl Glucoside, Starflower Leaf Extract (Borago Officinalis Leaf Extract), Castor Seed Oil (Ricinus Communis Seed oil), Jojoba Seed Oil (Simmondsia Chinensis Seed Oil), Phenoxyethanol, Sodium Cetearyl Sulfate, Ethylhexlglycerin, Caprylyl Glycol, Palmarosa Oil (Cymbopogon Martini Oil), Lavender Oil (Lavendula Augustifolia Oil), Rose Geranium Oil (Pelargonium Graveolens Oil), Rose Flower Water (Rosa Damascena Flower Water), Citronellol, Geraniol, Phenethyl Alcohol, Linalool
Share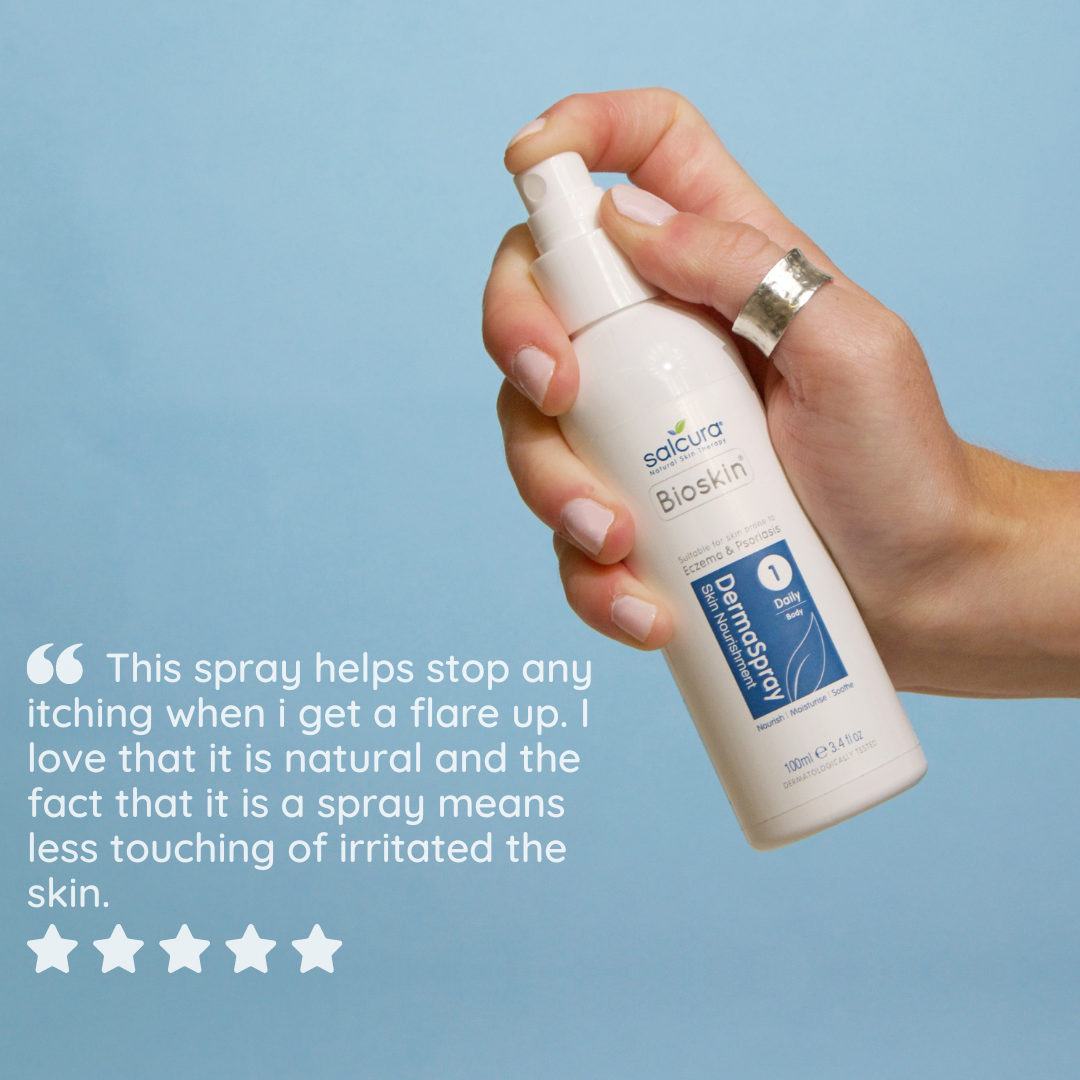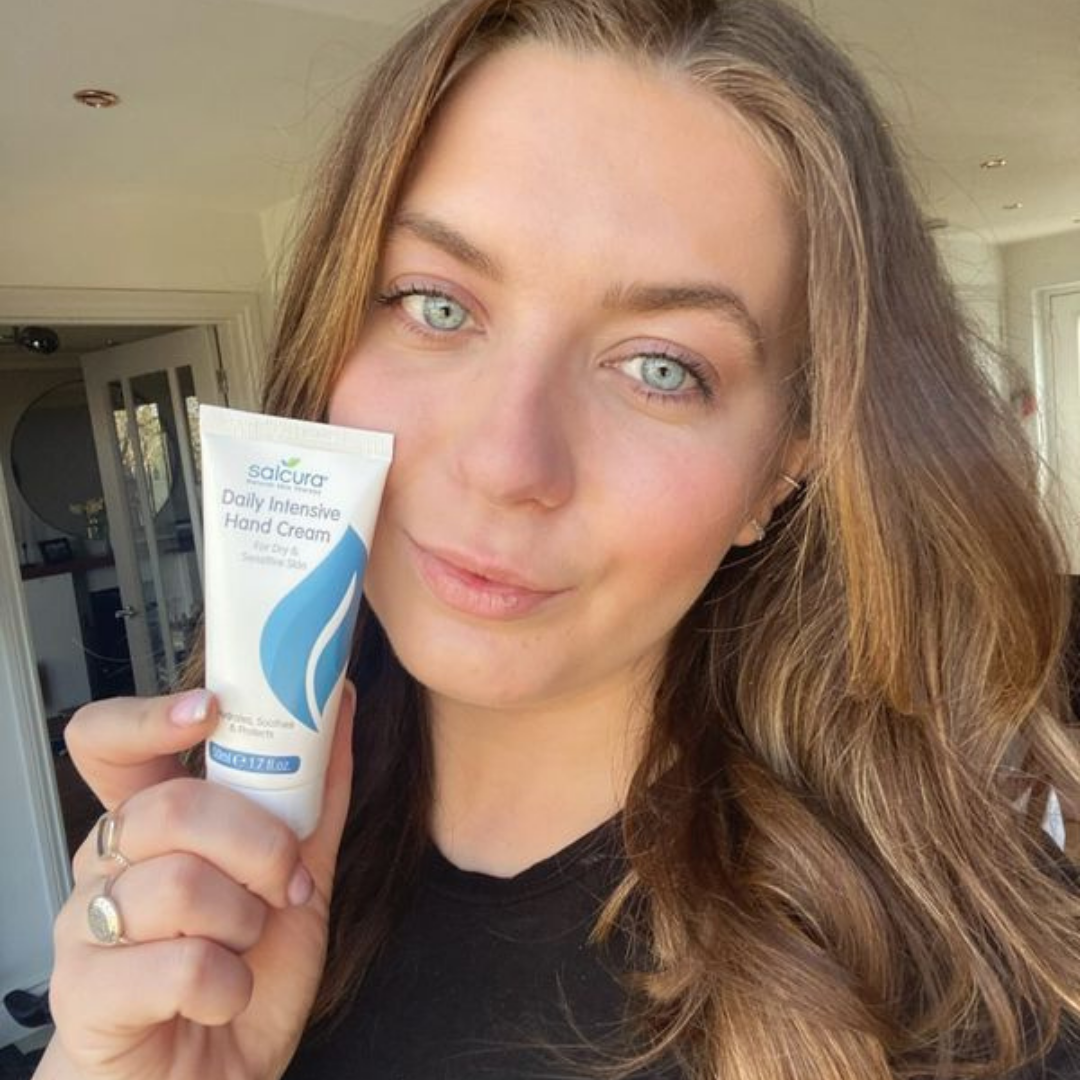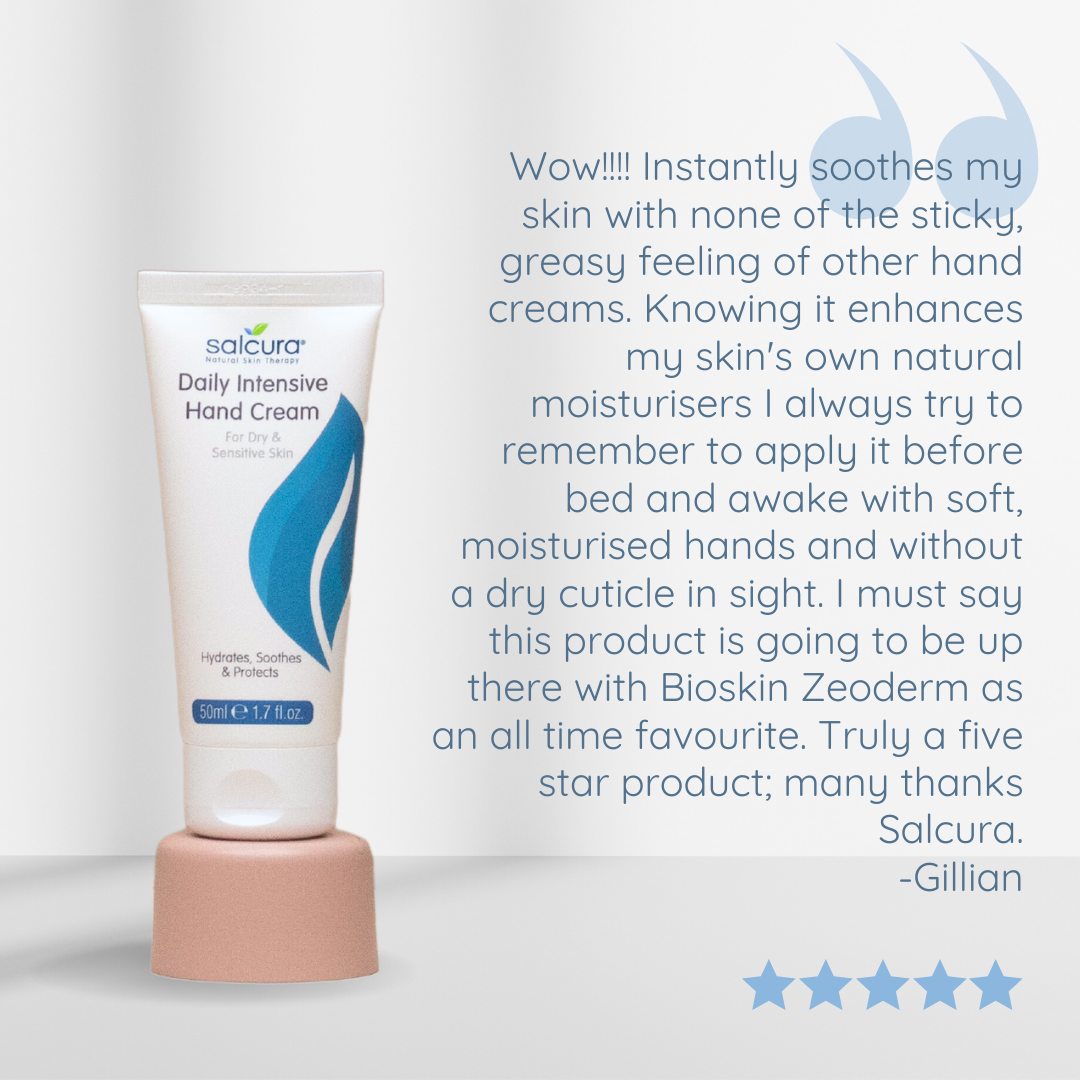 FAQs
Who can use Daily Intensive Hand Cream?

Daily Intensive Hand Cream can be used on all skin types.

Loved by individuals with manual occupations, such as beauticians, nurses, hairdressers, and doctors, who use are constantly washing their hands.

Also highly suitable for those with dry to severely dry and eczema and psoriasis-prone hands
How long should I use it for?

Unfortunately, our hands never stop, this is why recommend you use the Hand Cream daily.

To get your hands to healthy conditions, we recommend using our products for 4 weeks because of the skin cycle. Every 28 days your skin will generate and develop new cells which will grow through each layer of the skin starting from the subcutaneous layer. At the Epidermis layer, old cells shed off. Our formulation helps to provide nourishment to the new cells being developed so as they grow through, they come through in a healthier, more nourished condition
Is the hand cream different to Zeoderm?

Our hand cream contains the unique ingredient Zeolite, found in our Bioskin Zeoderm Skin Repair Moisturiser. However, we have packed even more natural oils and extracts in a nourishing yet very light formula, making it ideal for daily repeated use.

Unlike our Zeoderm, which requires a bit more rubbing and time to sink in, the Daily Intensive Hand Cream absorbs quickly, leaving the hands with a long-lasting satin feel rather than a sticky one.
Are your products vegan friendly?

Yes, all our products are vegan-friendly and cruelty-free.