Bioskin Junior Duo Pack (Free Outbreak Rescue Cream)
Regular price

£22.48

Sale price

£12.49
Experience our unique and award-winning 2-step Spray-Cream Therapy System. Try our Bioskin Junior Daily Nourishing Spray and Outbreak Rescue Cream with our Bioskin Junior duo pack.

Our Daily Nourishing Spray is designed to sink deep into the skin to instantly soothe itchiness and dryness, and the Outbreak Rescue Cream helps those patches of skin severely affected.

Get our Bioskin Junior Outbreak Rescue Cream for free with our Bioskin Junior Duo Pack containing:
1 x Bioskin Junior Daily Nourishing Spray - 100ml (RRP £12.49)
The fine liquid of the Nourishing Spray sinks deep into the skin and feeds the skin all the nutrients it needs to become stronger and healthier. It immediately helps with itchiness and takes away the immediate dryness, effectively breaking the itch-scratch cycle.
1 x Bioskin Junior Outbreak Rescue Cream - 50ml (RRP £9.99)
Our Rescue Cream will soothe and support the dry, itchy and irritated skin. Packed with 10 different natural oils and extracts like unique volcanic mineral Zeolite, Castor and Olive,
How it works

The spray application makes the product easy to use as it is non-greasy and it does not need rubbing in, making it a very practical product for all those wriggly children!

We fill our Sprays with natural vitamins and minerals - with Sea Buckthorn for nourishment & cell regeneration, English Lavender to calm & balance, and Rosemary for its ability to support collagen development and eliminate free radicals.

Containing unique ingredients like the volcanic mineral Zeolite, Lavender and Jojoba, our Rescue Cream detoxifies the skin, binds moisture into the skin and gently soothes and protects the damaged skin.
How to use

1. Apply at least 3-4 times a day initially onto the affected areas.

2. Reduce this application frequency as the symptoms subside.

3. When skin has returned to relative normality, continue using the product to top the skin up with the Nourishing Spray's and the Rescue Cream's vital nutrients at least 2-3 times per week. This should keep the symptoms controlled.

4. When applying to the face and around the eyes, we suggest spraying onto a cotton pad then wiping onto the skin to give more control over the spray action and to avoid contact with eyes

Apply the Cream shortly after the Spray liquid has sunk into the skin.
Ingredients

Bioskin Junior Daily Nourishing Spray
Aqua, Glycerin, Helianthus Annuus Seed Oil, Glyceryl Oleate, Glycol Stearate SE, Sodium Cetearyl Sulfate, Polyglyceryl-6 Stearate, Phenoxyethanol, Triticum Vulgare Germ Oil, Hippophae Rhamnoides Kernel Extract, Isononyl Isononanoate, Olea Europaea Fruit Oil, Carthamus Tinctorius Seed Oil, Lavandula Angustifolia Oil, Rosmarinus Officinalis Leaf Oil, Urea, Polyglyceryl-6 Behenate, Ethylhexylglycerin, Tocopheryl Acetate, Caprylyl Glycol, Linalool, Sodium Chloride, Limonene, Aloe Barbadensis Leaf Juice Powder, Geraniol, Beta-Carotene

Bioskin Junior Outbreak Rescue Cream
Aqua, Glycerin, Linseed Seed Oil(Linum Usitatissimum Seed Oil), Urea , Cetearyl Alcohol, Olive Oil (Olea Europaea Fruit Oil), Zeolite, Cetearyl Glucoside, Starflower Leaf Extract (Borago Officinalis Leaf Extract), Olive Leaf Extract (Olea Europaea Leaf Extract),Castor Seed Oil (Ricinus Communis Seed Oil), Jojoba Seed Oil (Simmondsia Chinensis Seed Oil), Phenoxyethanol, Sodium Cetearyl Sulfate, Ethylhexylglycerin, Caprylyl Glycol, Purple Viper's-bugloss Seed Oil (Echium Plantagineum Seed Oil), Palmarosa Oil (Cymbopogon Martini Oil), Lavender Oil (Lavandula Angustifolia Oil), Rose Geranium Essential Oil (Pelargonium Graveolens Oil), Rose Flower Water (Rosa Damascena Flower Water), Citronellol, Geraniol, Phenethyl Alcohol, Linalool
Share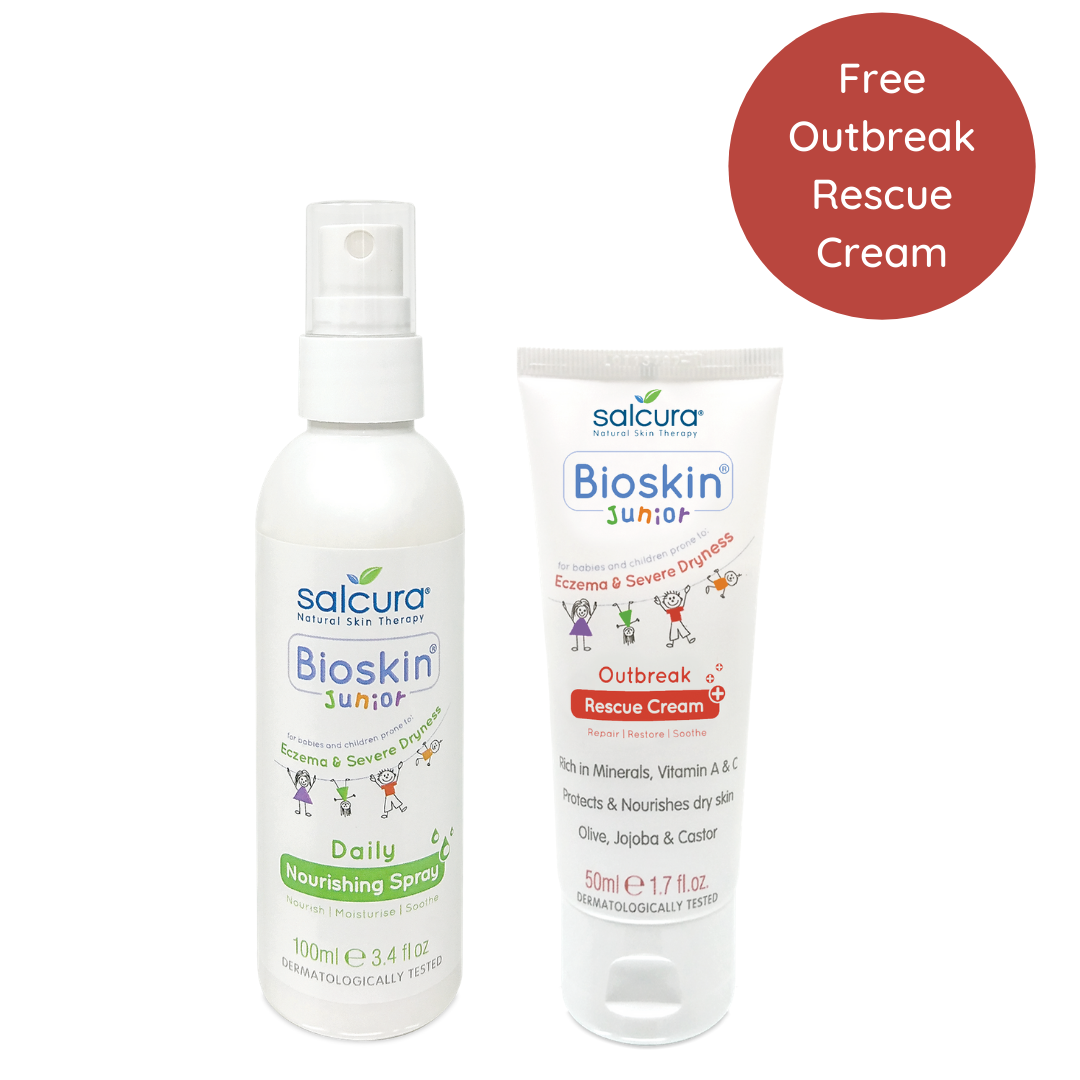 FAQs
What is the two-step therapy system?

We recommend using the Bioskin Junior Daily Nourishing Spray in conjunction with our Bioskin Junior Outbreak Rescue Cream for maximum results.

Use the Spray for daily maintenance and intense care, use the Rescue Cream after the Spray has sunk into the skin on those parts of the body that need extra support and care, like the elbows, knees and other areas prone to skin dryness.
Who can use Bioskin Junior Duo?

Developed to support those with itchy, severely dry and irritated skin.
Also suitable for babies and children who may be prone to eczema, dermatitis and other skin allergies.
How long will it take before I see results?

Every skin is different so we can never answer that question with a full guarantee. However, with a child's skin often still being quite resilient, some customers see improvement overnight. Don't worry if not though, the skin can take much longer to recuperate!

Generally, we recommend using our products for 4 weeks because of the skin cycle. Every 28 days your skin will generate and develop new cells which will grow through each layer of the skin starting from the subcutaneous layer. Our formulation helps to provide nourishment to the new cells being developed so as they grow through, they come through in a healthier, more nourished condition
Are your products vegan friendly?

Yes, all our products are vegan-friendly and cruelty-free.